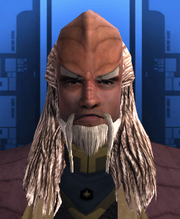 Ha ha haha!
[Your rank] [Your name], you are so predictable! And like a Tarkalean sheep, you were blindly led to the slaughter.
I knew you would find my weapon research station. I sent Marta to give you its location!
Now that I have you just where I want you, I've closed the blast doors and triggered the base's self destruct mechanism! You're trapped!
Even now, my ships are escaping with the weapons and data we cared to save from your Federation meddling.
It is a good day for you to die, [Your rank]!
Ad blocker interference detected!
Wikia is a free-to-use site that makes money from advertising. We have a modified experience for viewers using ad blockers

Wikia is not accessible if you've made further modifications. Remove the custom ad blocker rule(s) and the page will load as expected.