Kai Zan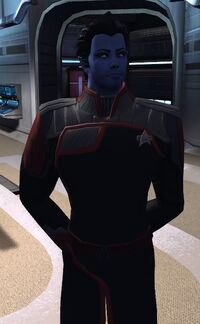 Statistics

Affiliation:
United Federation of Planets / Starfleet
Age:
~80
Species:
Kieran
Family:
Unknown
Skills:
Leadership
Powers / Abilities:
Limited Telekinesis/Psychokinesis, enhanced physical strength due to alien physiology.
Rear Admiral Kai Zan is a member of the Kieran race, a race of enigmatic, tall blueskinned humanoids.
Ad blocker interference detected!
Wikia is a free-to-use site that makes money from advertising. We have a modified experience for viewers using ad blockers

Wikia is not accessible if you've made further modifications. Remove the custom ad blocker rule(s) and the page will load as expected.